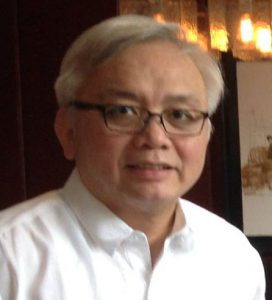 Raymund Liboro – Commissioner – Raymund Liboro was appointed as Commissioner of the National Privacy Commission in March 2016. Mr. Liboro first made his name in national media as commentator for PBA games in the 90s. He was part of the emerging breed of sportscasters together with the likes of Chino Trinidad, Sev Sarmenta, Noli Eala, Ed Picson, and the late Butch Maniego—all well-versed in commentating in either English or Filipino that certainly contributed to the expansion of the league's fan base during the decade.
Prior to the NPC ASec. Liboro was  Assistant Secretary of the Department of Science and Technology (DOST) where he carried the same zeal and passion in lifting the profile of the Department of Science of Technology as its de facto chief spokesperson. He served as DOST point person in a number of important inter-agency committees and assignments and is recognized as among the prime movers of Program NOAH, which since its launch in July 2012 has been cited even by international organizations for portraying a more comprehensive weather picture of the Philippines and for providing advance warning bulletins during typhoons and monsoon rains.
An economics graduate of the University of the Philippines-Diliman, ASec LIboro was also the official DOST representative of the Cabinet Assistance System (CAS) chaired by former Secretary of the Cabinet Jose Rene Almendras. He also served as the OIC Director of the Science and Technology Information Institute, DOST's main information agency.