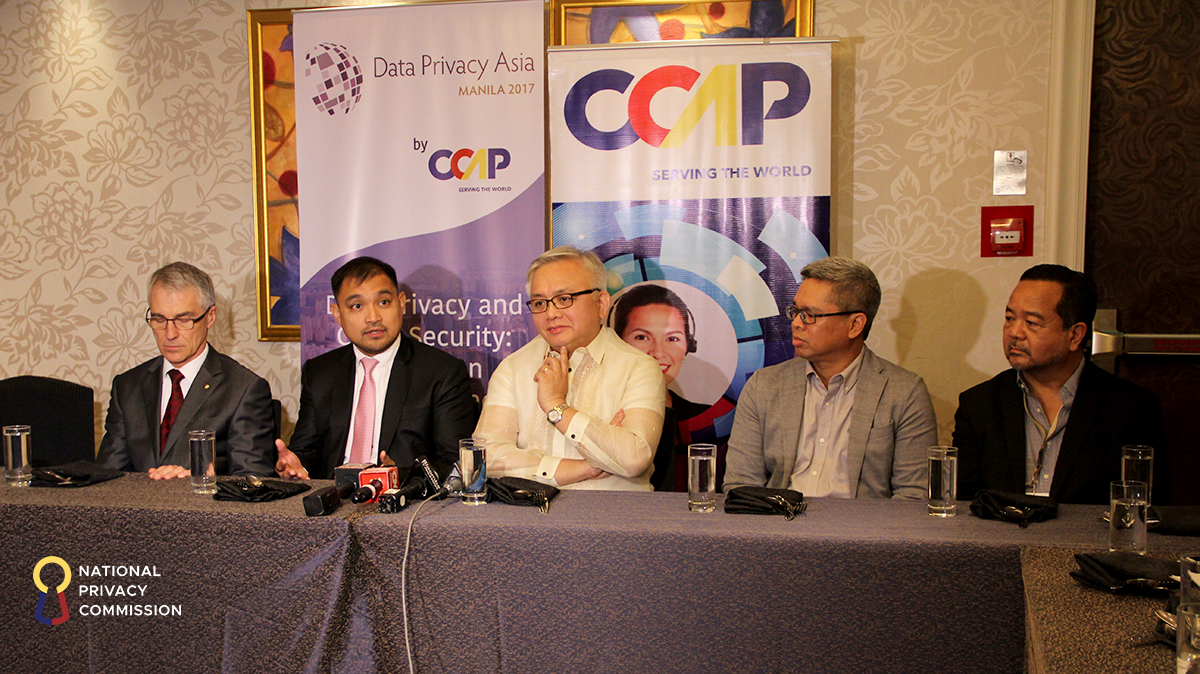 Data privacy compliance a competitive edge for PH companies
In this information age, compliance with data privacy and data protection regulations is considered by organizations as a competitive advantage in their business operations. This was confirmed by contact center managers and data protection experts at the recent Data Privacy Asia conference organized by the Contact Center Association of the Philippines. (CCAP).
Contact center clients look for more than just capacity and capability of the workforce; they also look at the utilization of industry best practices in data and network security, as well as international compliance with data protection and data privacy regulations. This was explained by CCAP President Jojo Uligan, who said, "Customer experience is crucial, and as service providers, this what we are focusing on. When customers are aware that their data is secure, this translates to more business for industry."
Among those present at the event were international experts in data privacy and protection as well as the Philippines' Data Protection Authority, the National Privacy Commission (NPC).
Privacy Commissioner Raymund Enriquez Liboro revealed that companies complying with the Data Privacy Act (DPA) of 2012 have a competitive edge when in comes to data protection and privacy. The DPA promotes international best practices in data protection comparable to data privacy frameworks such as the European General Data Protection Regulation (GDPR) and the APEC Privacy Framework.
"With ASEAN integration coming up soon, companies in the Philippines need to implement their data protection and data privacy obligations not only to keep their existing clients, but also to assure future growth," Privacy Commissioner Liboro said.
Mr. Malcolm Crompton, former Privacy Commissioner of Australia, was also at the event to explain why having a Privacy Management Plan is essential for organizations to ensure the longevity and competitiveness of their business. "With the successful implementation of Privacy Management Plans, companies can expect increased business, enhanced reputation, more satisfied clients, and improved adaptability to change," Mr. Crompton said. "The company's greatest asset is data. Organizations need to rethink the risks associated with data processing in order to manage them effectively."
Speakers at the Data Privacy Asia conference explain to reporters why Contact Centers need to comply with Data Privacy Laws to keep competitive edge. From left to right are Mr. Malcolm Crompton of ICC, Mr. Jojo Uligan of CCAP, and Privacy Commissioner Raymund Enriquez Liboro.
Organizations that process personal information as part of their operations are required to register their data processing systems with the NPC on or before the 9 September 2017 deadline specified in the Data Privacy Act's (R.A.10173) Implementing Rules and Regulations. One of the first registration requirements of the NPC is the designation of the Data Protection Officer (DPO) who will be responsible for data protection and data privacy in the organization.
About NPC: The NPC is a regulatory and quasi-judicial body constituted in March 2012 by virtue of RA 10173. As the Philippines' data privacy and data protection watchdog, the agency is mandated to uphold the right to data privacy and ensure the free flow of information, with a view to promoting economic growth and innovation. To know more about the NPC, can visit www.privacy.gov.ph.