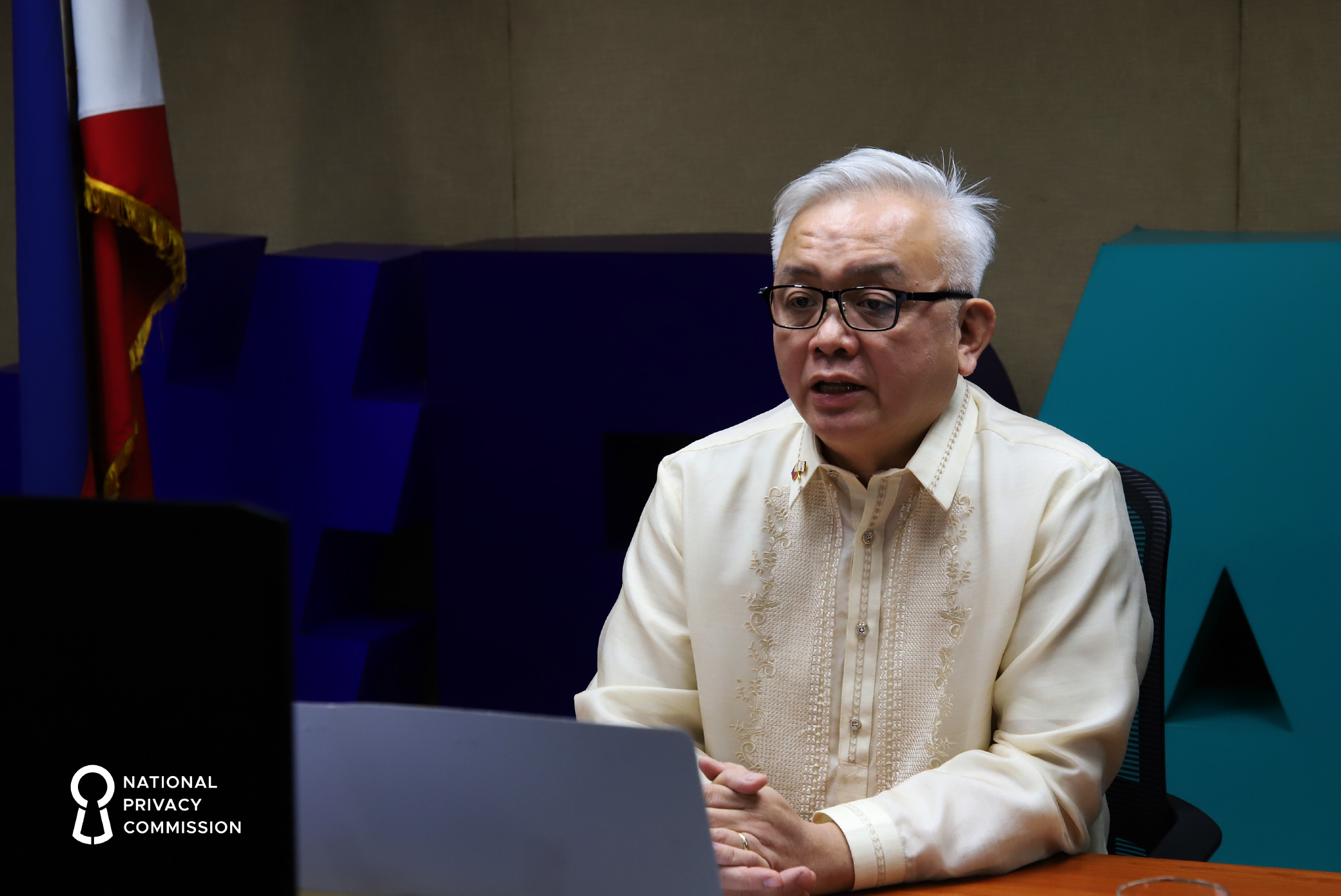 NPC highlights data controllers' prominent role in digital growth, economic recovery
Privacy Commissioner Raymund E. Liboro called on businesses and organizations to step up efforts in adopting personal data protection principles and strategies, citing the economic and global opportunities that await those who commit to safeguarding their customers' privacy to the highest standards.
"An incentive for your companies is recognition for excellence for achieving a higher level of accountability," Liboro said in his speech at the first day of a Privacy Awareness Week (PAW) conference, touting firm-level accountability as a business "differentiator" amid cutthroat competition in the digital economy.
Liboro described firm-level accountability as taking "primary responsibility" for protecting their data subjects, going beyond legal compliance to promote a culture of privacy that embraces a "do no harm" culture and acknowledges the "duty of care" towards its customers and users.
Earning trust seals
The Privacy Commissioner encouraged all personal information controllers (PICs) to invest in earning certifications and seals which the NPC will soon be issuing as part of its push to help companies build a better reputation for their brands.
Among them is the Privacy Mark, a voluntary certification scheme that will validate a company's compliance with the latest international standard for privacy and protection.
Meanwhile, the certification of compliance with the APEC Cross Border Privacy Rules will provide PICs a pathway to global markets, an opportunity made more accessible even to small business players as the digitalization heightened cross-border trade.
"We want our companies to capitalize on this momentum by expanding their data-driven services to cross-border transactions. Thus, NPC is partnering with bilateral, regional, and international organizations for Global Data Transfer Mechanisms to ensure the free and secure flow of data from and into the Philippines," Liboro added.
Avoiding sanctions
Liboro also noted that compliance mitigates risks of costly sanctions for violating the Data Privacy Act (DPA), especially with the NPC's nearing completion of a proposed circular on administrative fines against erring PICs which will add to existing criminal penalties.
"We will continue to incentivize accountability in the years to come and disincentivize those who refuse to be accountable and put citizens at risk of privacy harms. We will do this to differentiate responsible organizations from those who willfully violate the law to target our limited enforcement resources where it is most needed and effective," Liboro added.
Support from gov't leaders
In his message of support to the NPC at the opening of PAW's conference, President Rodrigo Duterte said that the celebration will supplement the efforts "in protecting our people's privacy rights and enable us to raise public awareness on current data practices and developments as we strive to overcome the challenges brought about by the pandemic."
"I laud the National Privacy Commission for its steadfast commitment in safeguarding our people's privacy rights through the implementation of data protection measures and strict enforcement of our privacy laws," President Duterte said.
Secretary Gregorio Honasan II of the Department of Information and Communications Technology said that "data is a game changer in the digital world," making it everyone's responsibility, especially data controllers, to protect it from predators.
"It is our duty to not only advance data protection and cybersecurity in the country but also to futureproof our plans, programs, and initiatives, so that people will safely benefit from the advantages of the digital world and data-driven governance," Honasan said.
A panel session on upholding data privacy rights in the pandemic response during the conference highlighted the importance of digital solutions being mindful of the data privacy rights of citizens while taking into consideration vulnerable sectors.
Pasig City, for example, modeled its contact tracing app with the provisions of the data privacy law in its essence. Mayor Vico Sotto said the technology of the city's contact tracing app is also accessible to citizens with or without smartphones.
"We need all our systems and technologies, if we really want them to be used at a wider scale, to be inclusive, safe, secure, compliant to the Data Privacy Act, and to limit who gets access to the data. The Pasig City Government complies with all data privacy requirements and recognizes that privacy is a fundamental right," Sotto said during the panel session.
Undersecretary Jonathan Malaya of the Department of the Interior and Local Government echoed the importance of utilizing digital solutions that reach vulnerable and technologically challenged groups. In this, Malaya stressed that the government and business establishments, as data controllers, must "adjust for contact tracing to be successful."
Role of Private Entities
The ever-evolving digital landscape focus of PAW 2021 cultivated more ideas on valuing personal information and discussed potential risks of cybersecurity.
The 2-day awareness conference tackled different topics covering E-Commerce, telecommunications, online learning, and expertise on data privacy itself. It highlighted the responsibility of the private sector in complying to the DPA and their role in preserving the rights of their data users.
Mr. Mark Frogoso, Chief Information Security Officer of GCash emphasized that "Compliance really is your license to do business, and so, complying to the Data Privacy Act is a key enabler for continuous Business Operations."
The value of transparency, collaboration, and trust conveyed the overall message of NPC's partners in practicing protective privacy across industries.
"We believe that if our consumers and subscribers feel and believe that their information and privacy rights are protected by our company, then that will engender the public's trust. Achieving minimum compliance with data protection regulations should not be the be-all and end-all objective," Atty. Adel Tamayo of DITO Community said.
PAW Awards
For the first time since the establishment of the NPC, it has produced the PAW Awards - a recognition for outstanding privacy practices throughout different sectors.
To close the celebration, data privacy leaders and advocates who have greatly contributed to the foundations of data privacy in the country were awarded by Commissioner Liboro himself.
Individuals and institutions joined the nominations through data privacy initiatives and showed compliance with the DPA. Winners include – San Miguel Corporation for private sector and the Department of Health for public sector.
The 4th Privacy Awareness Week, themed "Valuing Privacy in the Time of Digital Transformation: Protecting Filipinos. Promoting Economic Recovery. Building Trust," aims to emphasize the role of data privacy and protection to harness opportunities in the fast-growing digital economy and to help the country build back stronger and inclusively.
The PAW is an annual national celebration, led by the NPC, to promote data privacy as a tool for overall national development.
-- END --