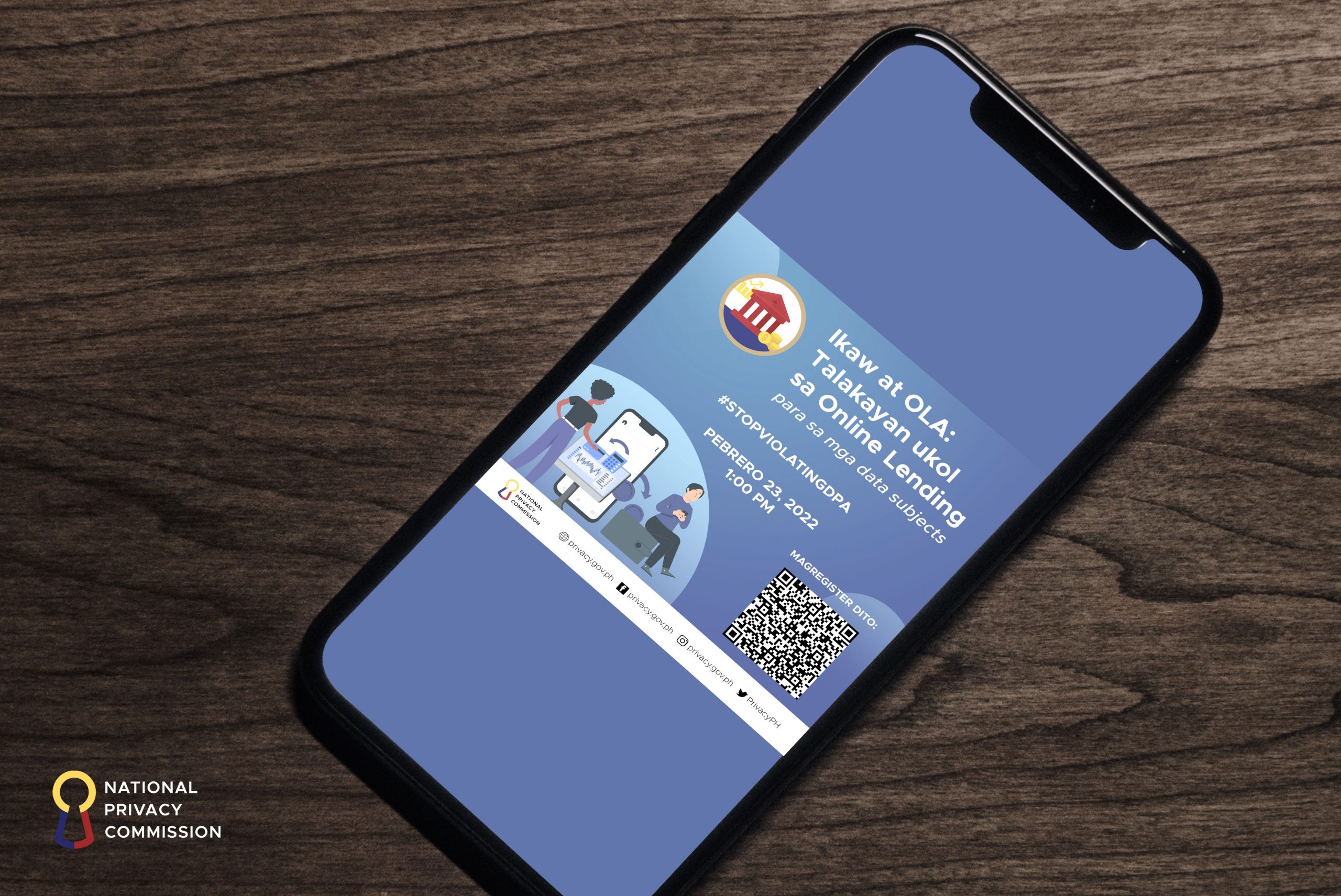 NPC invites public to a symposium on data subject rights, scope of DPA in abusive practices of OLAs
The National Privacy Commission (NPC) invites the public to a virtual symposium on online lending to let them learn about their data privacy rights as borrowers, and the scope of the Data Privacy Act (DPA) in terms of unethical and abusive online lending practices.

The online event is entitled "Ikaw at OLA: Talakayan ukol sa Online Lending" with the hashtag #stopviOLAtingDPA. It will be held via MS Live platform on February 23, 2022 at 1:00 PM. Also joining the symposium are representatives from the Bangko Sentral ng Pilipinas and Securities and Exchange Commission to discuss the scope of their respective jurisdictions in addressing abusive practices of Online Lending Applications (OLAs).
Among the points for discussion are allowable permissions of access on personal data that OLAs may implement in loan-related transactions, the prohibition of unnecessary permissions that involve personal and sensitive personal information, and the security measures that data subjects or borrowers need to practice when using such applications.
The proper process of filing a complaint with the NPC against OLAs will also be discussed in the symposium. This includes the preservation of evidence, initiation of the complaint, evaluation, and resolution process. This will give participants a bird's eye view of what happens with complaints against alleged violations of OLAs.
The NPC started receiving complaints on data privacy violations committed by online lending companies in 2018. Since then, the Commission has initiated actions and information campaigns on social media to raise public awareness and empower data subjects against abusive online lending practices.
The NPC released a circular in September 2020 (NPC Circular No. 20-01) which provided the guidelines on the processing of personal data for loan-related transactions. In September 2021, the Commission invited operators of OLAs for a symposium on DPA compliance and legitimate lending practices.
Privacy Commissioner John Henry D. Naga emphasized that the virtual symposium is among the Commission's strategies to address the prevalence of complaints about the abusive practices of certain OLAs.
"Protecting the privacy rights of data subjects is the National Privacy Commission's priority above all else. However, it is still the primordial responsibility of these online lending companies to incorporate data protection policies in conducting their operations. In the same vein, it is also important to the NPC that would-be clients of OLAs are aware on how confidential and sensitive their personal data are. We want them to recognize red flags in choosing and using online lending apps. For those whom these unethical OLAs have victimized, the NPC shall be diligent in providing a venue for their complaints related to the DPA. We shall be relentless in ensuring that their data privacy rights are well-protected," Naga said.
NPC will entertain questions from attendees in an open forum after the discussions. The event will be streamed live on the Commission's official Facebook page (facebook.com/privacy.gov.ph) and YouTube channel (youtube.com/NationalPrivacyCommission).