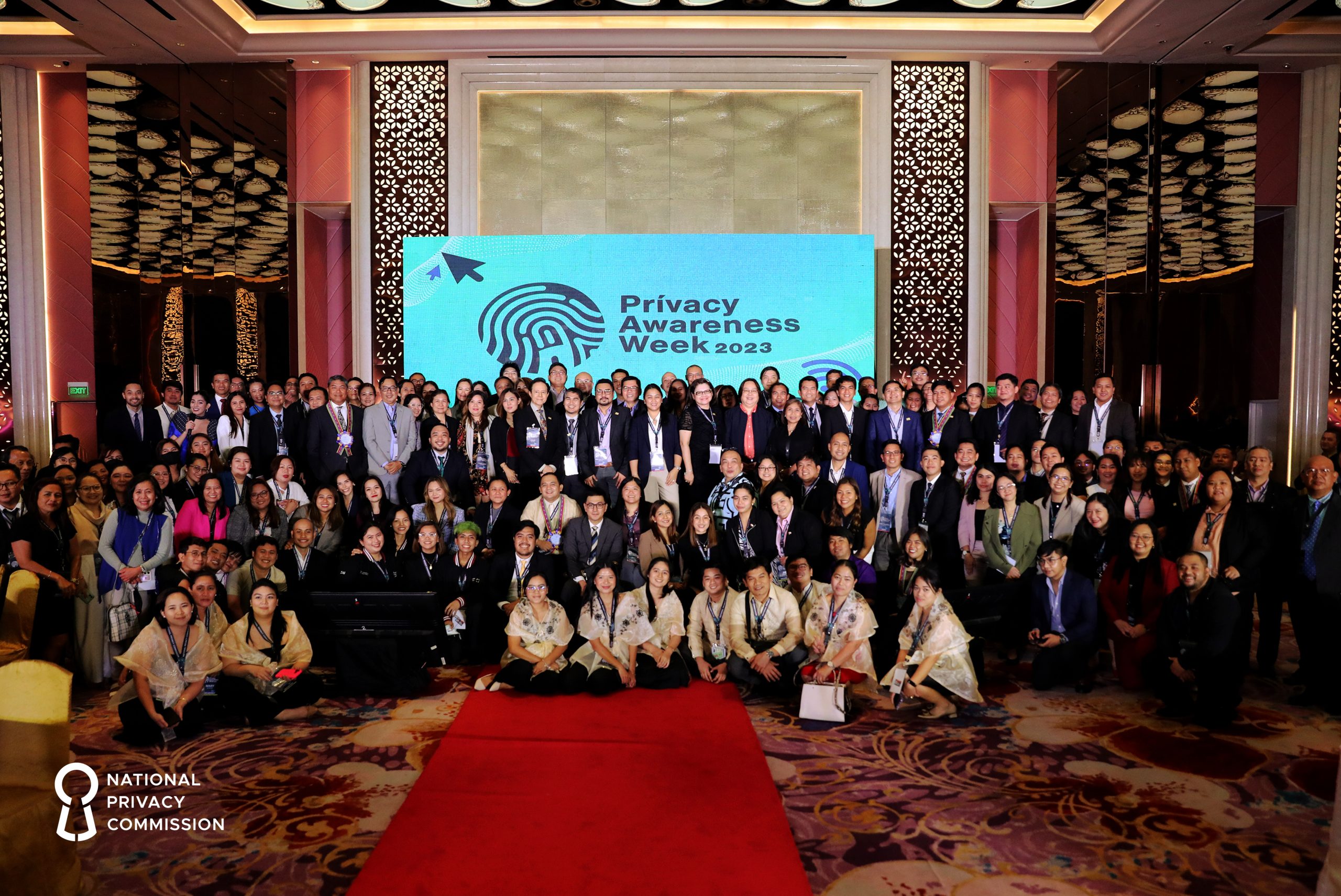 PAW 2023: Empowering Data Privacy Champions to Safeguard Personal Data Privacy Rights
The National Privacy Commission (NPC) celebrated the Privacy Awareness Week (PAW) 2023, with the conduct of PAW Conference on May 25, 2023, at Okada Manila, Parañaque City, as the culminating event. With the theme "Empowering DPOs and Protecting Personal Data Privacy Rights of Filipinos," and Department of Information and Communications Technology Secretary Ivan John E. Uy as the keynote speaker, PAW 2023 showcased the critical role of Data Protection Officers (DPOs) in promoting responsible processing of personal data and sharing best practices in the promotion and protection of data privacy rights of Filipinos.
In his video message, President Ferdinand R. Marcos, Jr. highlighted the significance of the PAW Conference as a testament to the Marcos Administration's efforts to align the country's data privacy initiatives with global standards. In addition, he urged all attendees and the DPOs to persevere in their commitment to legal compliance, working hand in hand with the NPC to foster digital innovation and ensure the continuous development of robust data privacy practices. "From this gathering, I hope to see innovative solutions that will safeguard and address the concerns of the private sectors as regards to data protection," President Marcos, Jr. stated.
In her Statement, Vice President Sara Z. Duterte-Carpio also expressed her support for this year's PAW Conference. "This occasion attests to your (NPC) continuing efforts to fulfill your responsibility of protecting the privacy rights of Filipinos," she stated. Vice President Duterte-Carpio called upon all citizens to work together in safeguarding our fellow Filipinos, especially children, from the abuses prevalent in virtual spaces and digital platforms.
Privacy Commissioner Atty. John Henry D. Naga delivered his Commissioner's Report underscoring the NPC's profound belief in the importance of ensuring that data subjects are well-informed of their rights. "We firmly believe in empowering data subjects through knowledge and awareness, and fostering a culture of privacy and data protection. Through our comprehensive advocacy programs, we strive to provide individuals with the necessary tools to navigate the complexities of the digital world. This enables them to make informed decisions about their personal data, and exercise control over their privacy," the Privacy Commissioner stated.
The PAW Conference gathered industry leaders, DPOs, and data privacy experts and advocates to provide valuable insights on the advantages of institutionalizing data privacy programs, to share best practices for data subject rights promotion and protection, and to highlight the pivotal role of privacy professionals in organizations.
The speakers for this year's PAW include Mr. David Hardoon (Aboitiz Data Innovation), Mr. Eugene Acevedo (Rizal Commercial Banking Corporation), Mr. Amit Jagga and Atty. Michael Montero (Concentrix Philippines), Mr. Kevin Shepherdson (Straits Interactive), Atty. Aurelle Dominic Narag (PrivaLex Consulting Group), Atty. Maria Concepcion Gloria-Rubio (Philippine Amusement and Gaming Corporation or PAGCOR), Atty. Maria Patricia Foria (Insurance Company of North America), and Mr. J. Trevor Hughes of the (International Association of Privacy Professionals).
Messages of support were also sent by NPC partners, namely, Senator Jinggoy Estrada, Senator Sherwin Gatchalian, Senator Christopher Lawrence Go, Senator Loren Legarda, Senator Ramon Revilla, Jr., Senator Joel Villanueva, and Senator Cynthia Villar.
In promoting collaboration and strengthening partnership regarding personal data protection in the international level, data privacy authorities from other countries expressed their support to the NPC and shared their best practices in their respective jurisdictions, namely, Ms. Denise Wong (Personal Data Protection Commission of Singapore), Ms. Ada Chung Lai-Ling (Privacy Commissioner for Personal Data Protection of Hong Kong, China), Mr. Akira Nakaminato (Personal Information Protection Commission of Japan), Prof. Dr. Faruk Bilir (Personal Data Protection Authority of Türkiye), Ms. Blanca Lilia Ibarra Cadena (INAI of Mexico) and Mr. Ian Deguara (Information and Data Protection Commissioner of Malta).
NPC in 2022: Navigating Challenges, Delivering Excellence
In 2022, the NPC achieved significant accomplishments by further enhancing data privacy and protection. To assist Personal Information Controllers (PICs) and Personal Information Processors (PIPs) in strengthening their data privacy measures, the NPC issued 4 circulars covering administrative fines, loan-related transactions, private security agencies, and registration of personal data processing systems. Additionally, the NPC released an advisory providing the guidelines on request for personal data of public officers, and 29 advisory opinions addressing privacy concerns faced by data subjects, PICs, and PIPs.
The NPC heightened its data privacy response through strengthened compliance efforts, including the registration of DPOs, through its Compliance and Monitoring Division. This resulted in 1,670 new registrations of PICs, PIPs, and individual professional DPOs. Furthermore, the NPC processed 2,047 amendment requests, 711 renewal applications, and conducted 42 On-Site Visits and 543 Privacy Sweeps. Non-compliant PICs/PIPs received 63 Notice of Documents Submissions and 45 warning letters.
Regarding complaint handling, the NPC amplified its case investigation and enforcement programs to promptly address data breach, data security, and privacy concerns. In 2022, the NPC handled 279 new complaints and resolved 1,404 complaints, with a total of 3,175 concerns being managed by its Legal and Enforcement Office. In relation to its adjudicatory function, the NPC issued 35 Decisions, 60 Resolutions, and 45 Orders for cases adjudicated in 2022.
Recognizing the importance of adopting emerging information and communications technologies (ICTs), the NPC pursued the digitalization and modernization of its services. The Data Breach Notification Management System (DBNMS) and the NPC Registration System (NPCRS) were launched in 2022 to facilitate its breach notification and registration processes.
While accomplishing these milestones, the NPC solidified its position in the global data privacy landscape. In September 2022, the NPC renewed its ties by signing a memorandum of agreement with the Personal Data Protection Commission (PDPC) of Singapore, which was witnessed by President Ferdinand Marcos, Jr. and Prime Minister Lee Hsien Loong, during the former's State Visit. Locally, inter-agency collaborations were fostered through a memorandum of agreement with the Philippine Competition Commission and the Cybercrime Investigation and Coordinating Center.
In terms of public education, the NPC conducted various capacity-building programs on data privacy and protection for its stakeholders. It addressed 10,755 requests received through different channels and processed 82 Freedom of Information requests from 2022 up to the first quarter of 2023. Additionally, awareness campaigns were also conducted through press releases, DPA briefing sessions, Kabataang Digital Summit, and the PSST! initiative (Privacy, Safety, Security, and Trust).
The NPC also supported the SIM Registration Act by guiding Public Telecommunications Entities (PTEs) to process citizens' personal data in compliance with the Data Privacy Act of 2012 (DPA). It addressed public concerns on issues related to the terms and conditions and privacy policies being implemented by PTEs.
Privacy Commissioner Naga proudly stated that, "Our accomplishments during the year 2022 is proof that the NPC remained true to its principles to invariably uphold data subject rights and be an able partner of personal information controllers and personal information processors."
NPC in 2023: Raising Accomplishments to the Next Level
Currently, the NPC continues to craft policies toward strengthened privacy regulations, building a high-trust society, and realizing a privacy-empowered Philippines.
Privacy Commissioner Naga shared the accomplishments for the first quarter of 2023 including the publication of NPC Circular No. 2023-01 or Schedule of Fees and Charges of the NPC, the draft Circular on Data Privacy Competency Program, and other draft circulars for public input.
Recently, the NPC signed two memoranda of understanding (MOU) which commenced collaborations both in the local and international levels. The first MOU was signed with the country's leading telcos namely, Dito Telecommunity Corporation, Globe Telecom Inc., and Smart Communications, Inc., while the second MOU was entered into with the Office of the Privacy Commissioner for Personal Data – Hong Kong, China. These partnerships reflect the NPC's commitment in fostering cooperation and advancing data privacy efforts across various sectors and international boundaries.
The NPC also announced the launching of two significant initiatives. Privacy Commissioner Naga introduced the Circular on Prerequisites for the Philippine Privacy Mark Certification Program and released the 2022 Compendium of NPC Issuances, a comprehensive guide designed to educate and inform Filipinos about data privacy and protection, made digitally available at the NPC website.
In recognizing the importance of keeping up with the evolving user expectations, the NPC enhanced its website and launched the NPC Website Version 2.0. It made significant improvements to include a user-friendly interface, personalized drop-down menus, news and updates, mobile-friendly design, and an efficient search bar. To explore the NPC Website 2.0 and experience its new features, visit https://privacy.gov.ph/.
PAW Awards 2023
With privacy at the forefront of digital transformation and data-driven innovation, the PAW Awards 2023 celebrated the significant achievements and best practices in protecting personal information. The annual PAW Awards is part of the NPC's endeavor to acknowledge its stakeholders' compliance with the DPA and to inspire PICs/PIPs, DPOs, and data privacy advocates in their efforts to strengthen data privacy and protection in the country.
The Privacy Initiative of the Year was awarded to Universal Leaf Philippines, Inc. for its Electronic Literacy Initiative while the Privacy Management Program Award was won by PAGCOR.
Mr. Allan A. Custodio was chosen as the Privacy Advocate of the Year and Mr. Jonathan John B. Paz of the Bank of the Philippine Islands was hailed as the Data Protection Officer of the Year.
###