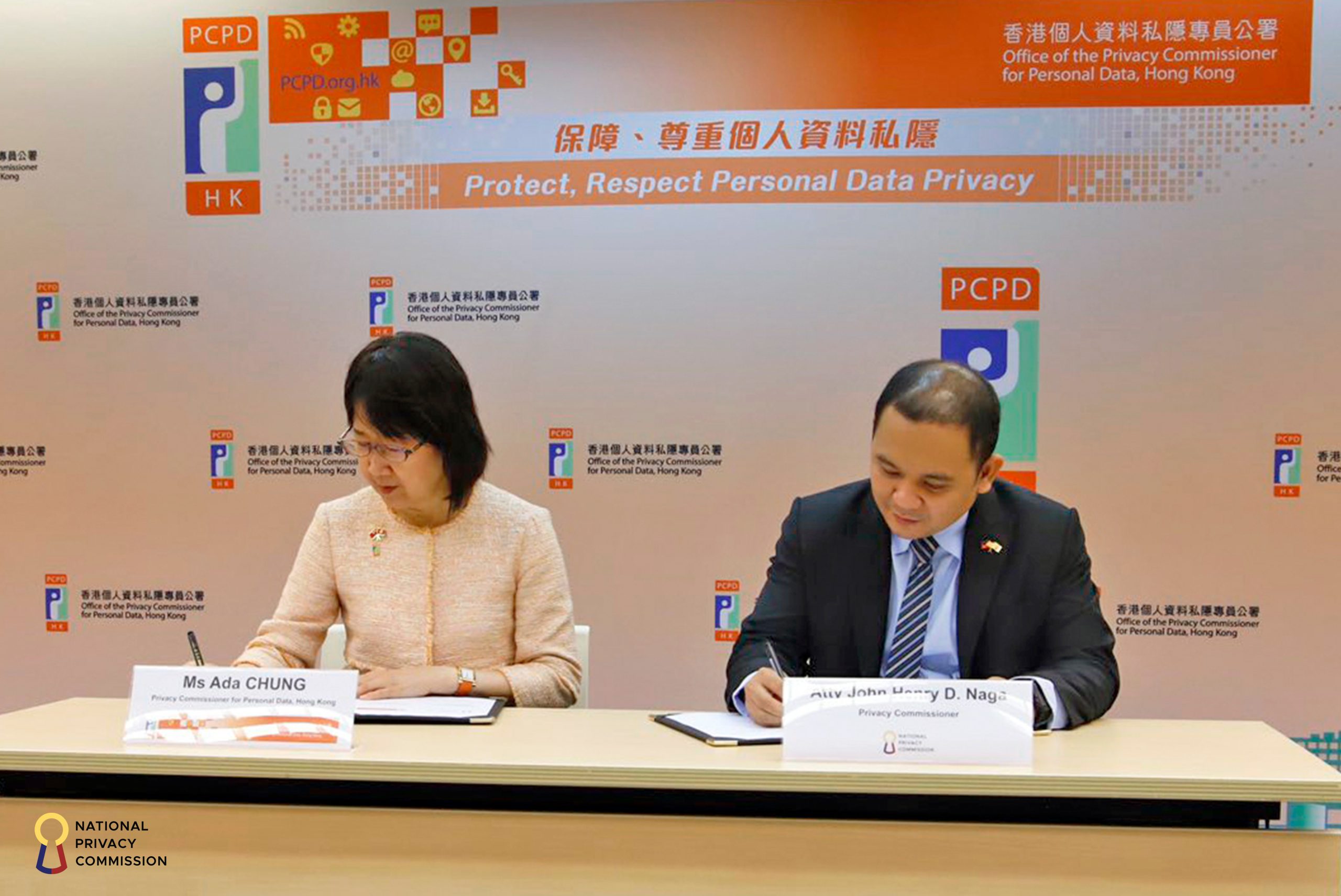 PH, HK sign MOU on Personal Data Protection
The National Privacy Commission (NPC) and the Office of the Privacy Commissioner for Personal
Data of Hong Kong (PCPD) signed a Memorandum of Understanding (MOU) to strengthen
collaboration and cooperation on personal data protection. Privacy Commissioner Atty. John Henry
D. Naga of NPC and Privacy Commissioner for Personal Data Ada Chung Lai-ling of PCPD signed
the MOU today, May 22, 2023, at PCPD Headquarters in Hong Kong, China.
Privacy Commissioner Naga emphasized the significance of the MOU and expressed enthusiasm on
this collaborative journey. "This Memorandum of Understanding reaffirms both jurisdictions' firm
belief that robust data governance is essential to protect data subjects' privacy rights, ensure trust in
digital services, and harness the transformative potential of data for social and economic progress.
The MOU reflects our commitment to jointly address the challenges posed by the digital landscape
and to foster a secure, inclusive, and data-driven future," the Privacy Commissioner said.
The MOU aims to enhance data privacy and protection measures through mutual support,
knowledge sharing, and joint initiatives, "Through this MOU, the NPC is ensuring that through its
cooperation with other jurisdictions, it leverage its mandate and build a sustainable and responsible
digital future for the Filipinos." Naga added.
Hong Kong's Privacy Commissioner, Ms. Ada CHUNG Lai-ling, highlighted the importance of
executing the MOU and looked forward to embarking on this new chapter of collaboration. She said
"The signing of the MOU between the two authorities shows our joint commitment and dedication
in safeguarding personal data privacy of citizens in our respective jurisdictions. I believe that the
enhanced collaborative efforts of both authorities would facilitate the growth and development of
digital economies in both jurisdictions while safeguarding personal data privacy. Going forward, I
am confident that the two authorities can share their expertise and experience in areas of mutual
interests amidst rapid technological developments in both jurisdictions."
Scope of collaboration
The scope of this MOU extends to various aspects of personal data protection, focusing on mutual
cooperation while adhering with their respective domestic laws and regulations. Furthermore, the
NPC and PCPD shall engage in joint efforts to promote personal data protection within their regions
and beyond.
This collaboration also includes the provision of mutual assistance to facilitate investigations in the
respective jurisdictions concerning potential contraventions of both countries' privacy and data
protection legislation. Additionally, both organizations will coordinate and provide mutual
assistance in joint investigations into cross-border personal data incidents or breaches, subject to the
foreign relations laws of both countries.
The NPC and PCPD shall actively engage in knowledge sharing, training, and education on current
and emerging privacy and data protection issues and trends. They shall explore or identify suitable
organizations from both jurisdictions to participate in a cross-jurisdictional sandbox to test-bed
innovative data sharing cases.
###