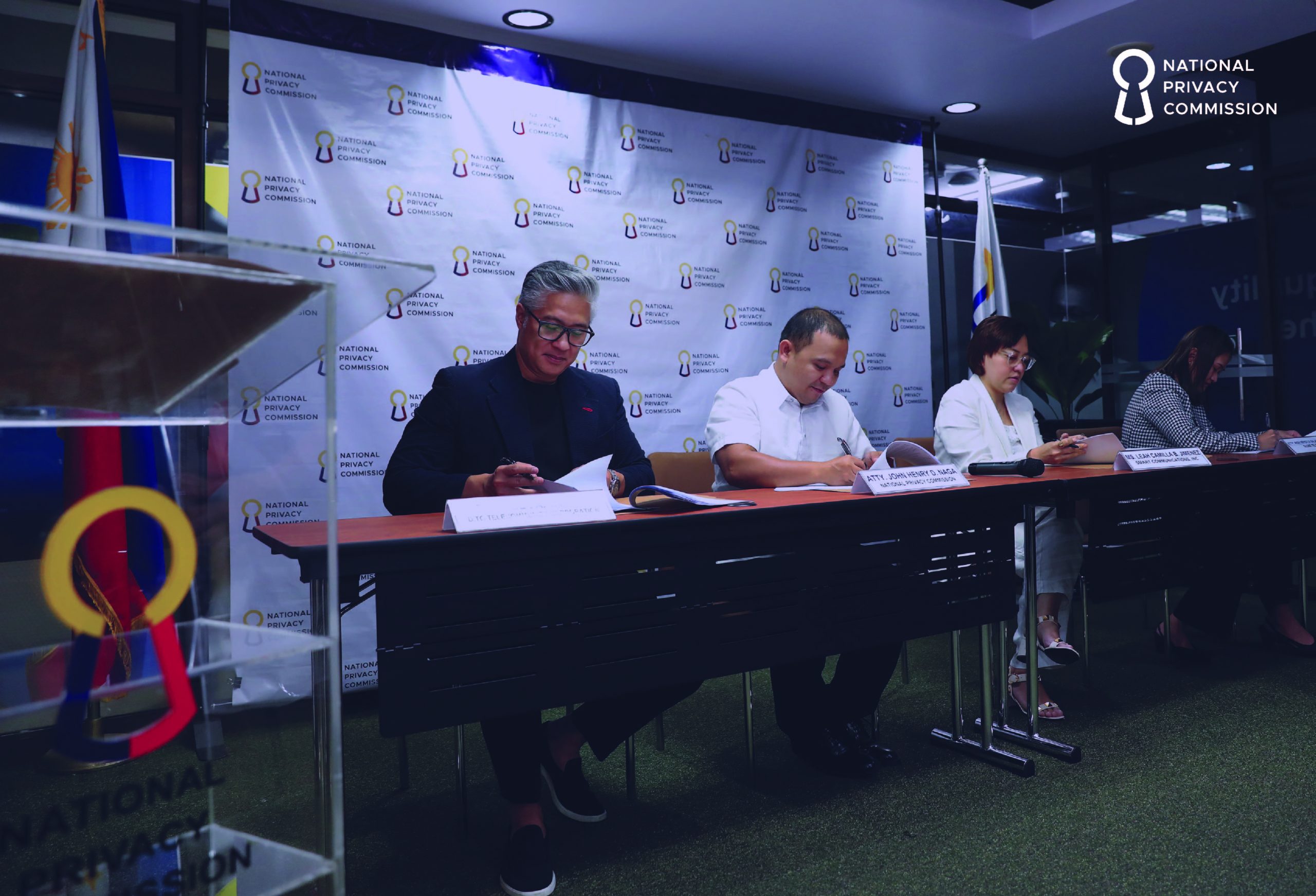 Driving positive change and transformation: NPC strengthens strategic partnership with Telcos through MOU signing
PASAY CITY, May 10, 2023 – The National Privacy Commission (NPC) took a significant step in
safeguarding the personal data of telecommunications subscribers by signing a Memorandum of
Understanding (MOU) with the leading telecommunications companies (Telcos) of the country. The
MOU aims to strengthen the coordination and cooperation between the government and private sector,
to further enhance the quality of services to stakeholders while ensuring the protection of personal data.
The MOU was signed on May 10, 2023 by Privacy Commissioner and Chairman Atty. John Henry D.
Naga and representatives from Dito Telecommunity Corporation (Atty. Adel A. Tamano), Globe
Telecom Inc. (Atty. Irish Krystle Salandanan-Almeida), and Smart Communications, Inc. (Leah Camilla
B. Jimenez). By virtue of the memorandum, a Joint Task Force is established to foster coordination,
communication, and implementation of the parties' respective obligations regarding data privacy and
protection, with NPC serving as the Secretariat.
The NPC, in cooperation with the Telcos, will work towards capacity-building, knowledge sharing, and
intensifying anti-fraud measures by launching a joint information dissemination campaign which will
educate and inform the public on these fraudulent schemes and the correct process on how to report
them.
The collaboration between NPC and Telcos, through the MOU, is a response to the urgent need to
protect the public's data privacy and security, especially against the prevalence of fraudulent schemes
such as targeted smishing messages. Commissioner Naga is confident that the MOU will start a more
dynamic relationship between the government and Telcos. "It is imperative that we join forces with the
private sector and collaborate to further strengthen data privacy awareness and educate our
kababayans in safeguarding their personal data. By working together in this common endeavor, we can
effectively promote the significance of ensuring that personal data is safe and secured, and the
consequences of failing to do so," the Privacy Commissioner said.
"This initiative is crucial in light of the increasing instances of data breaches and cyber threats that pose
a significant risk to data privacy and security. It is our collective responsibility to equip our fellow
citizens with the knowledge on their rights as data subjects and doing their part in protecting their own
personal data," Naga added.
The representatives of the Telcos affirmed their commitment in supporting the NPC's efforts in
educating Filipinos about data privacy rights, promoting a safe online environment, and preventing
fraudulent schemes to prevail.
###