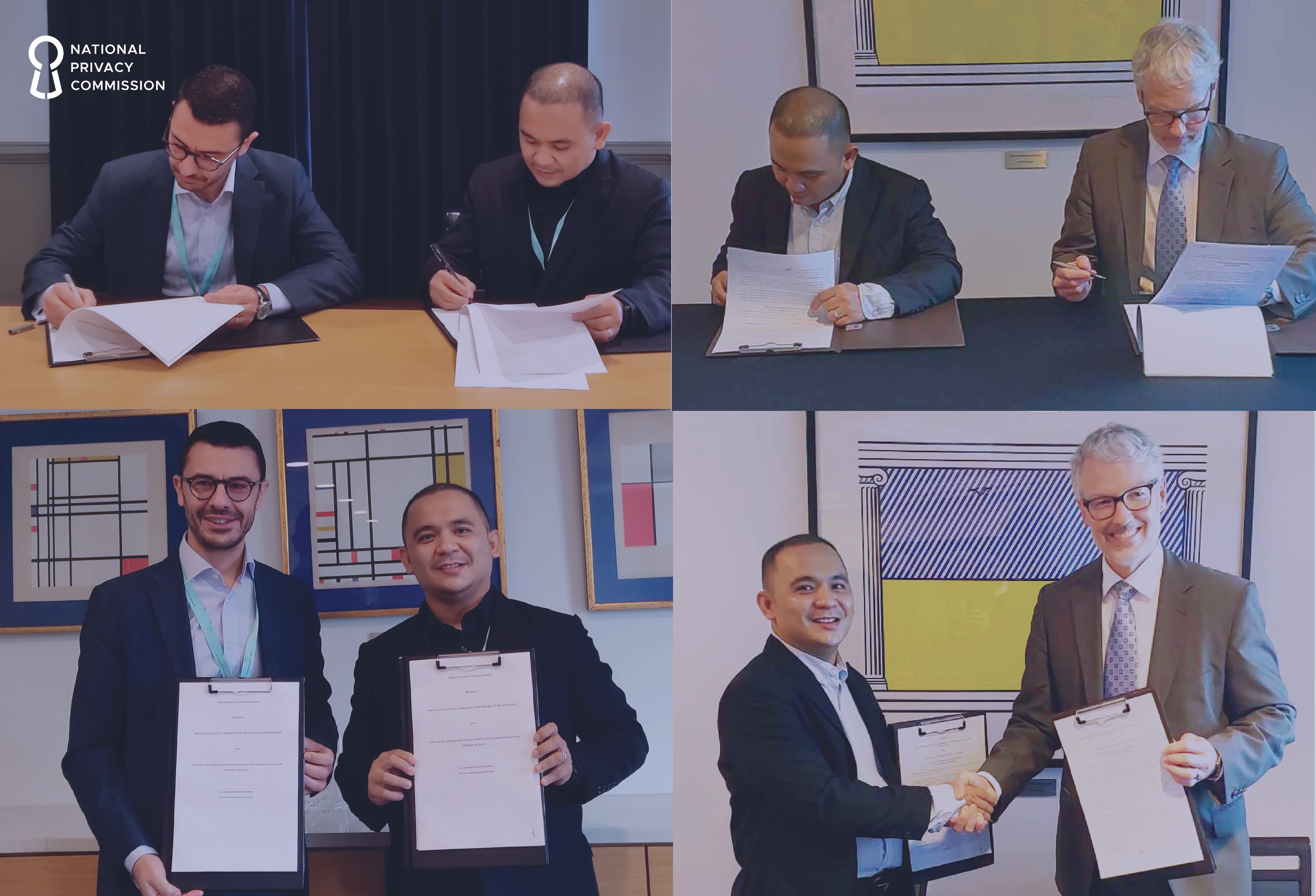 NPC Strengthens Global Data Protection Cooperation with Canada and Malta
In a significant milestone at the 45th Annual Meeting of the Global Privacy Assembly held in Hamilton, Bermuda, the National Privacy Commission (NPC) has entered into two key Memoranda of Understanding (MOUs) with its international counterparts from Canada and the Republic of Malta. These groundbreaking agreements aim to fortify international collaboration in the regulation of personal data protection laws.
Represented by Privacy Commissioner Atty. John Henry D. Naga, the NPC formally inked an MOU with the Office of the Privacy Commissioner of Canada (OPCC), represented by Privacy Commissioner Philippe Dufresne, on October 16, 2023. Subsequently, on October 17, 2023, the NPC further solidified its global commitment by signing another MOU with the Office of the Information and Data Protection Commissioner of the Republic of Malta (IDPC), represented by Commissioner Ian Deguara.
Privacy Commissioner Naga emphasized the profound significance of these MOUs, stating, "As the authorities responsible for data privacy and protection in our respective jurisdictions, we recognize the paramount importance of strengthening our collective resolve. These MOUs symbolize our commitment to safeguarding personal data while fostering international cooperation, with the shared objective of elevating data protection standards and governance. Our aim is to address the common challenges posed by the ever-evolving landscape of information technologies and to champion a secure, inclusive, and data-driven future for all."
Within these MOUs, the NPC, OPCC, and IDPC acknowledge the critical importance of establishing a robust mechanism for enhanced cooperation when addressing data privacy violations. This cooperation is designed to address shared challenges such as the cross-border application and implementation of data privacy laws, facilitating cross-border enforcement of data privacy protection. This, in turn, benefits industries, consumers, and other stakeholders in their respective countries. The MOUs further reaffirm the intent to deepen existing relationships and promote the exchange of best practices in personal data protection.
Through this collective effort, the rights of Filipino data subjects are poised to receive even stronger protection, despite the complex and ever-changing digital environment. The NPC, OPCC, and IDPC are committed to promoting a future where data privacy remains paramount, and where individuals, businesses, and societies can confidently navigate the digital world.
Scope of Collaborations
The MOUs signed between the NPC and its privacy authority counterparts deal with a comprehensive range of personal data protection facets, underlining their commitment to cooperation while respecting the sovereignty of domestic laws and regulations.
Through these MOUs, the NPC and the OPCC are set to embark on a multifaceted collaboration. This includes the exchange of crucial information pertaining to potential or ongoing investigations involving organizations within their respective jurisdictions suspected of breaching privacy and data protection laws. The MOUs emphasize the provision of mutual assistance to streamline investigations and facilitate cooperative efforts in addressing crossborder personal data incidents or breaches. Moreover, the NPC and OPCC will actively engage in knowledge sharing, training, and educational endeavors to stay ahead of contemporary and emerging privacy and data protection issues and trends.
In a parallel initiative, the NPC and IDPC will synergize their collaborative efforts. This collaboration will focus on the exchange of best practices and the sharing of insights regarding the ever-evolving landscape of privacy and data protection. Additionally, both parties are poised to embark on joint research projects and collaborate in the realms of technology and innovation. Their common objective is to bolster data protection, fostering a stronger alliance between the Philippines and the Republic of Malta.
These MOUs reflect a resolute commitment to the shared goals of safeguarding personal data, fostering global collaboration, and proactively addressing contemporary challenges in data protection, while embracing technological advancements and innovation.
###